Dryer Vent Cleaning Winnipeg, MB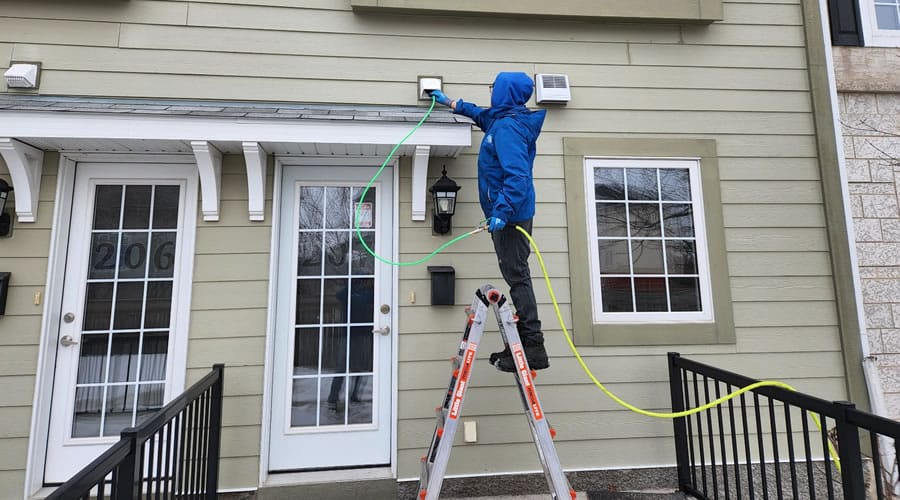 Dryer vent cleaning is an integral part of commercial property maintenance. We have found that many of our customers are ordering dryer vent cleaning annually or bi-annually to provide their unit owners and tenants with safe and efficient dryers.
This is an essential part of property maintenance as the lint and dust that accumulates in both the dryer, flexible hose connections, ducting behind the wall, and outside grill, can cause a dryer to not only become inefficient but also be the source of a fire in a worst case scenario.
Proper maintenance of the dryer Lint trap and dryer venting system are essential and crucial components to a robust property maintenance plan.
Insight Service Solutions, Inc.  Is a commercial cleaning and maintenance company based out of Winnipeg, Manitoba and serving the surrounding area.  We specialize in cleaning commercial dryer vents on commercial buildings and large residential dwellings such as apartments, condominiums, and townhomes.
Our Dryer Vent Cleaning Process
There are two main components to cleaning a commercial dryer vent on a building with multiple units.
The interior of your vents.
The exterior grill or baffle.
It is important to note that the recommended and best approach to a thorough cleaning is to clean the dryer vent first from the interior of the dwelling and then secondly from the exterior. This allows all of the lint, dust, and debris to be removed from both ends of the ducting system.
We understand that many of our customers will choose to do interior dryer vent cleaning only and in those cases we will as always do our best to push our hose system as far into the wall ducting system as possible.  However, due to bends and restrictions within the ducting we are limited to how far we can access.
As always we will do our best to work within our customers budget and expectations and then we will advise on best practices moving forward.
Interior Dryer Vent Cleaning
When doing dryer vent cleaning from the interior of the suite our technicians take great care to ensure that we leave the suites and apartments we enter into just as clean as they were before we came. Our technicians wear high quality boot covers, gloves, and face masks when required to ensure cleanliness and safety.
We have developed an efficient and effective system for cleaning dryer vents that allows us to be thorough and efficient.  This means that we spend less time in each unit while still getting great results.
Our process includes:
Cleaning out the front and back components of the lint trap, the connection hose, and the ducting that vents the hot air to the outside.
We clean the lint trap by going deep into the dryer with our vacuum attachment and removing debris that have accumulated behind in the lint trap catchment area.
We then proceed to pull back the dryer and disconnect the flexible hose from the dryer and wall vent.
We begin the process of agitating the venting system by using a flexible hose with a reverse tip that pulls it through the venting while loosening the debris. We continue to agitate and pull back the flexible hose while using a vacuum to retrieve lint that is dislodged.
Exterior Dryer Vent Cleaning
Exterior cleaning is much more straightforward than interior cleaning but has the added challenge of getting to the vent location. This is where we shine as we are able to reach any height regardless if it is a 2 story or 30 story building. Exterior work will often require the use of a ladder, aerial lift or rope access system. After reaching the vent location the cleaning process begins by accessing the ducting within the wall by either removing the grill or working in between the grill. We will first thoroughly brush the vent grill to ensure three are no blockages or restrictions to air flow. Secondly we then proceed to agitate the venting system by blowing pressurized air to pull out the debris to the exterior of the building.
Clear Communication
We understand that property maintenance and property management requires our dryer vent cleaning services to be of both high quality and cost effective.  Our goal is to do exactly that for our customers by providing great communication to ensure an efficient process.
We know that for property managers communication is key to the success of any commercial property maintenance project.  This is key to Dryer Vent cleaning as it often requires us to enter the dwelling which always requires advance notice to tenants and owners.
Great communication and planning leads to work being done when planned which in turn lowers your administrative costs. These costs include sending out notices multiple times and rescheduling site supervisors to provide us entry into suites.
Our office staff are dedicated to maintaining communication and the work we do in a timely manner to solve problems and come up with solutions.
We know that problems will arise from time to time with either the work or staffing and therefore we know that we cannot offer perfection but rather a guarantee to always remedy the problem, find a solution and make adjustments for the future.
If you'd like to schedule an estimate or an appointment for the dryer vent cleaning of your commercial building give us a call at (204) 957-5757 or fill out our online form and we'll get right back to you.