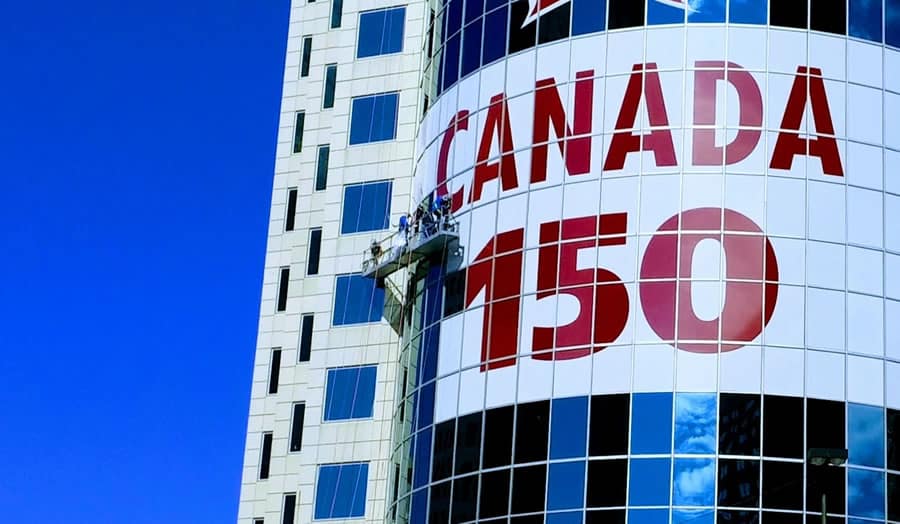 Looking for a safe, reliable, and professional swing stage crew? We would love to help you out. We work with construction companies, sign installation companies, owners and maintenance professionals to get them to the area they need to access. Our technicians are certified to work on suspended platforms at any height and are able to set up and move over the platform to the location that you need. We would love to help you with your project.
Insight Service Solutions Inc is a top-tier professional cleaning company based out of Winnipeg, MB and serving the surrounding area.  We specialize in swing stages and rope access work and we offer our swing stages and experienced crews for various tasks on high-rise buildings and structures with complex, difficult to access architecture. If you need a swing stage with an experienced crew, we can help!
Swing stage scaffolding is a platform suspended from two anchor points using ropes or cables that are fixed to stirrups on either side of the platform.  This specific mounting configuration allows the stage scaffold to be raised and lowered with hoist motors.
Swing stage is the best solution when the work being performed will take over an hour of time in one location or there is heavy equipment or material required to complete the project. Our technicians are not only able to set up and operate the platform but are also able to assist in installations and maintenance work.